Yo homies, so this is the type of outfit which I wore to the launch of a denim brand, we were told to wear at least one item of blue denim,so I chose to wear an off the shoulder denim jacket which I altered myself -as I couldn't find what I wanted for a good price (dont worry it was super easy to alter).
Some of the items in this picture aren't what I actually wore, but I have found some good, if not better, alternatives for you to try DONT WORRY, girl i got chu….
I have to start by letting you guys know that you DO NOT have to buy this jacket in particular to make your outfit bomb…at £765 I certainly didn't!!
I got my old denim jacket out of the back of my wardrobe and styled it like the one in this picture by Balenciaga. This denim jacket has dropped shoulders and pleated panels through the front to hold its boxy shape which is good for people who have a larger figure as these features can hide it well. My favorite part about this jacket is the dropped shoulders, I think that the way it shows the collar bones is so pretty and instantly makes the person seem more beautiful and sophisticated… YASSSS GIRL GET THOSE C BONES OUTTTTT.
All I did to achieve this look was put on the jacket as normal, then I buttoned it up from the bottom and stopped when i felt comfortable (dont wanna show off too much titty lol).  Then, I pulled the top of the jacket over my shoulders and it looked just the same as the one in the picture! I always like to play it safe so I put a few small ass stitches where the collar was pulled over my shoulders just to make sure it wouldn't pop back up during the night; this is super easy to do and you can take them out when you've finished wearing it, literally by cutting them- make sure you don't cut the jacket tho..
Look..girl.. if you did decide to splurge on this jacket then you can justify it, although its pricey ,you could wear it to any occasion, so you really could get your use out of it..at the end of the day, a denim jacket is like a little black dress or a Chanel trench coat, its timeless, you can wear it over and over, year after year and it will never be old. You could wear this jacket to a shopping trip with friends paired with a bandeau top, some denim mom jeans, Gucci trainers or black and white vans and some gold hoops to match some cute thin necklaces. OR you could wear this to a meal out with a boyfriend with a pair of black skinnies, gold stilettos and a simple clutch bag on a chain, it really can be worn with anything!!
If you would like to buy this swing oversized denim jacket or read more about it then click here!
I adore these. I got a pair these from Miss Guided last year for Christmas and they have blown up in the fashion world ever since! Most of the high end trousers like these are stretchy and, personally, I'm not a fan of these; I just think they look really cheap and unflattering..having said that, many of my friends love them!!
I love my pair (which are a lot like the one in the picture) because the material is thick and strong which subsequently makes them look really sharp, clean and good quality. This pair of trousers is made of 93% Polyester and 7% Elastane- this means that they will be machine washable, which is always good!!
I have put this pair of trousers on the picture instead of the ones I actually wore because I couldn't find them on Polyvore (the app which I used to create the image)- buttttt, seeing as they're reduced from £62 to £27, they're not a bad buy!
If you would like to read more about these side split pants in the picture or by them then click here!
OR
If you would like to buy the trousers which I actually wore, or to read more about them then click here!
These rose gold clear strap heels are £30 from Pretty Little Thing, and I think they're fab!! I love love love the colour of them, I think that this colour goes with everything and makes it look extravagant and expensive. I think that these heels are also really good because they feature a clear strap across the toe, which is right on trend and this also makes the heels a little more casual meaning you could wear them to a meal out or with your prom dress!!
These could be considered to be on the pricey side but I think they are compleatly worth it and should be a staple in everyones wardrobe!! I think although they are £30, you can wear them over and over again with so many different outfits that they are totally worth it!
Click here to look at the heels or purchase them!!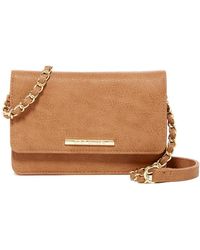 THIS BAG..yo i love it. I chose to use this bag in my outfit because I felt like it added some subtle colour to the outfit and the colour is one that is classic and will always be on trend. I think this type of bag is perfect for the outfit because it is simplistic yet the hint of gold on the strap ties in well with the jewelry and just brought the whole outfit together.
I think this bag should be a staple in the wardrobe because it can be worn for any occasion and will go with most outfits..
If you would like to buy the bag or just take a look at it then click here!
THE EXTRAS……
I freaaaaaking love these, jewelry for me brings the whole outfit together and makes it go from 0-100 real quick. The gold necklaces and hoops are so on trend right now, delicate necklaces and chockers are in particular, so mix them together and girl you gonna look on fire!
Hoops for me should always be in your collection, they aint never not gonna be in!!
oh.. and the varnish?? yeah that was me just trying to be extra extra.
So guys, that was my outfit!! Sorry this post was so long but I feel like its one thats worth reading! I loved wearing this outfit and I got so many compliments, i'm so happy with the things that I bought because I know that literally every item can be worn over and over in so many ways so I deffo got my moneys worth!! love that..
If you made it this far down in my post.. yo girl u the realest! Thank you so so so much for the support as always guys, it means the world.
Make sure to comment your thoughts, like, share, follow, u know all that!!
Until next time my loves,
Katie xo